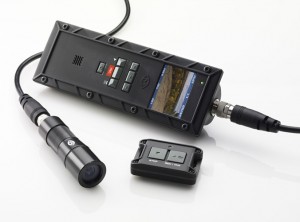 Update: This was the system I used before the GoProHD camera came out which is a much simpler system to use (no wires!).  I would suggest it over the VioSport POV1.
(click on Continue Reading below to view video.)
I purchased a VioSport POV1 January of 2009 and for being a small camera I have to say it's built rock solid.  The camera head is made of metal, not plastic.  This was one of the reasons I really liked this unit because I know how well cheap little plastic cameras hold up.
If you are buying this camera one thing you must buy is the mounting pouch for the recording unit.  It's a sturdy little bag that holds the recording unit snugly in place and offers some snapping straps that allow you to mount it to various things.  For kiteboarding, it mounts perfectly on the straps on my harness right next to my right hip which makes it easy to start and stop with my right hand.
The unit also comes with a wireless remote control that you could wear on your wrist like a watch and start and stop it remotely.  I prefer to start and stop it without the remote because the remote is just a button that doesn't actually tell you if it's recording or not.  By pushing the start/stop button on the actual recording unit you can see the green light turn red indicating the unit is recording. Plus, the remote hooks on your wrist via what resembles a velcro watch band which would get totally ripped off if I wipe out in the water.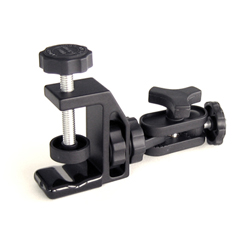 To mount the camera head I used an adjustable mount called an Ultra Clamp.  This clamp can be used on almost any camera that has a 1/4-20″ screw threaded bottom.  It's also very versatile.  It can mount on flat surfaces as well as curved surfaces like railings.  I shot this video by mounting it on the corner of my board looking up at me, on my kite's control bar, as well as a funny little rig I put on my head.
The head rig was made by taking the head-band part out of an old welding helmet.  It has a notch on the side that was perfect for mounting the Ultra Clamp to.  It's probably not the safest way to to it but it works great and by having the recording unit on your right hip you can easily look at it and make adjustments to the camera head.  My friend Zach Sheeran, a fellow kiteboarder, couldn't stop laughing at what he called my "Frankenstein Headset."  At the beginning of the video you'll notice him laughing at it.
One of my biggest complaints about the POV1 camera, besides it not shooting in HD, is the codec it uses.  Premiere CS4 does not like it.  It won't even play it.  So, this obviously adds an extra step in post.  You need to take the files and transcode them into something that works with your editor.  I run the footage through Adobe Media Encoder and convert it to another format before editing can begin.
There are other small video cameras similar to this such as the GoPro Hero.  I have seen footage from both and have to say that the footage from the POV1 is much better.  The GoPro does have the simplicity of just having one piece of equipment though instead of the camera head and recorder being separate.
UPDATE: GoPro has just released the GoProHD.  Stay tuned for some fun stuff from that camera.